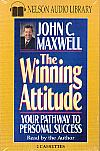 Your Pathway To Personal Success
Are you frustrated with settling for second best?
Are you tired of trying to cope with feeling defeated?
Do you want to know how you can turn a bad attitude around?
You will learn how to recognize and attain the winning attitude to overcome life's difficulties, win people over, and turn problems into opportunities.